This assessment reports against your current Datadog Infrastructure, Security, Logging and APM configuration and provide report findings aligned to Datadog & industry best practices.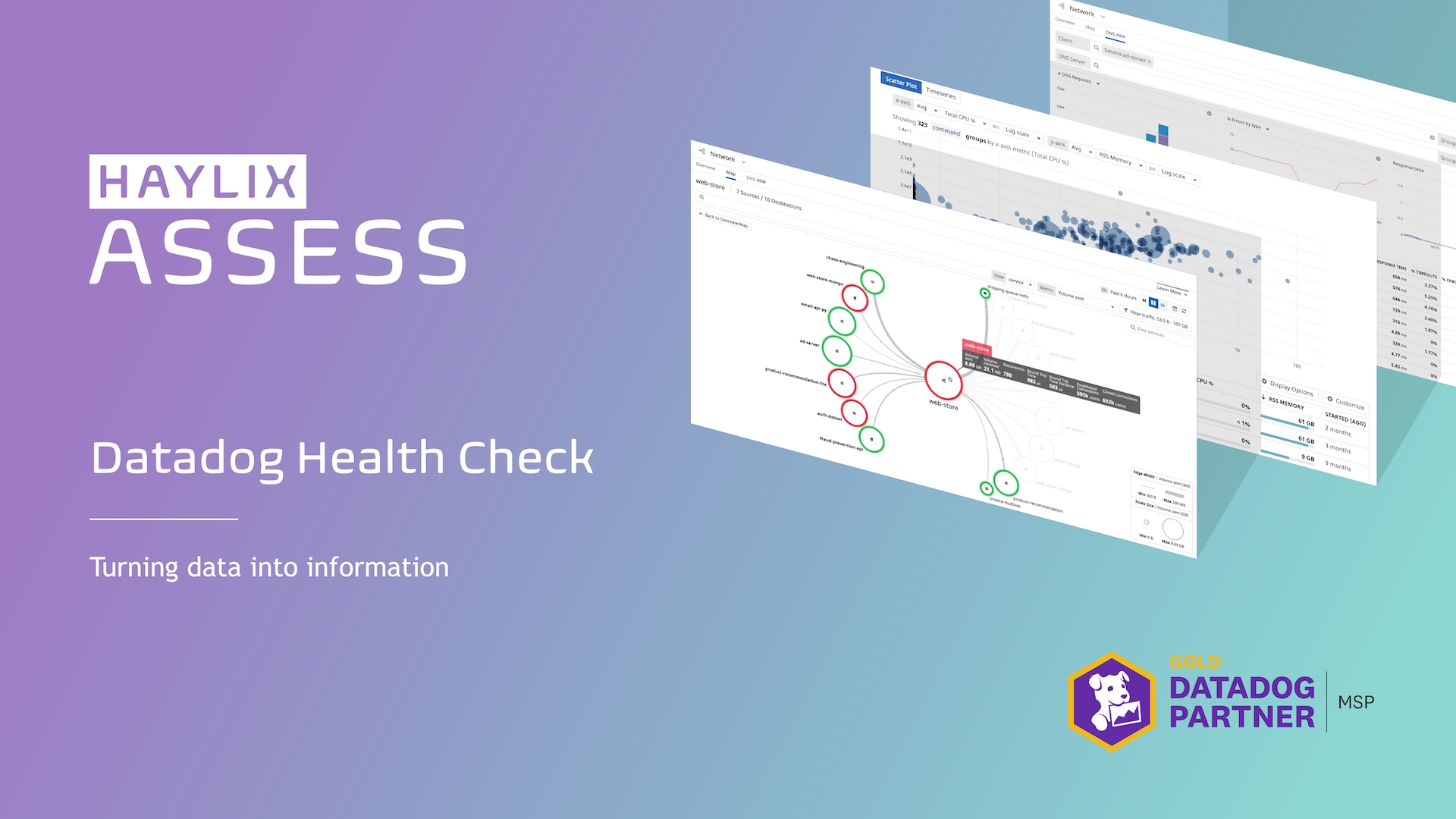 The assessment considers multiple aspects such as agent release, APM dependencies checks, quality of monitors, dashboards and most effective use and storage of logs.​
Comprehensive report including a rating of the overall alignment against Datadog best 

practices

​

Unveil potential areas of improvements for your configuration

​

Identify the existing knowledge of specific areas of your Datadog platform

​

Identify the efficiencies and effectiveness of the log management

​

Tailor any additional enablement to level up the existing knowledge of the Datadog 

platform

​
​Review monitor lists​
Alerts assessment​
Alert automation potential ​
Escalations assessment – e.g. critical alerts to on-call, non-critical alerts to email / ticketing system​
Assess for sub optimally configured monitors. Aimed at avoiding alert fatigue.​
Quality notification content. ​
Monitor tagging & grouping convection and consistency​
Identification of persistent monitor triggers ​
Point out any monitors in "NO DATA" state​
Point out any monitors muted indefinitely, and check whether mutes have comments​
Check suggested monitors from APM / services​
Check recommended monitors (Monitors → Create new, recommended tag)​
Monitor your infrastructure without having to learn a query language
Seamlessly pivot from logs, traces, and metrics in a single view
Comprehensive Log monitor review

​

Filters and exclusions for indexing aimed at 

minimising costs

​

Retention periods assessed

​

Daily quotas

​

Use of log metrics within dashboards for improved 

visibility

​
Automatic deployment tracking and comparison of code versions across application, infrastructure, and code profiling metrics
Assess set of services

​

Service & map dependencies review

​

Linkage of monitors and services
Assess set of services

​

Service & map dependencies review

​

Linkage of monitors and services
Customise views and visualizations that are relevant to your team
Examine Infrastructure List – Agent grouping and 

versions

​

Agent deployment gap analysis

​

Agent version review

​

Assess tags on infrastructure hosts
Keep on top of your infrastructure